Some moms' mistakes in preparing porridge for children may inadvertently have negative impact on nutrient absorption of children. Children may lack some certain substances and even become malnourished if mistakes have not been recognized and eliminated.
1. Use bone broth to cook porridge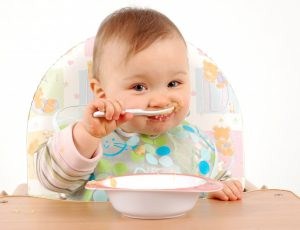 This seems quite common mistakes. Many mothers have a habit of using bone broth for the baby porridge as they think all nutrients are soluble in the water and their children will fully absorb these nutrients. But in fact, the protein is still left in the flesh and bones after simmering. Therefore, bone broth has no use in increasing nutrients for children.
2. Use cereal to make porridge for under-6 month children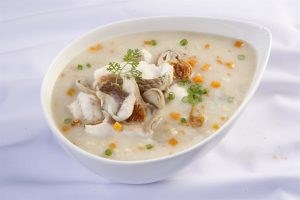 Many mothers have a tendency to add more cereal into porridge as they want to increase nutrients in the diets of children. However, cereals are not good for the digestive system of the under-6 children. They are advised in the diets of above 6 month children only after being thoroughly cooked.
3. Offer children too many potatoes and carrots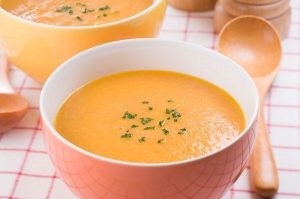 Some mothers automatically define that nutritious fruits and vegetables definitely help to gain weight if they are put in children's diets. However, potatoes and carrots represent only carbohydrate group rather than vegetables as some people think. They will help babies look chubby but lack vitamins. Too many potatoes and carrots will cause children fall in excess powdered sugar. Remember not to replace vegetables with potatoes and carrots.
4. Not add oil to baby porridge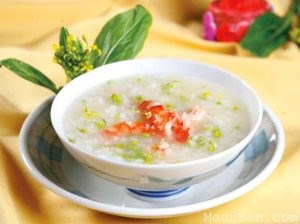 Cooking oil not only helps provide children more energy but also help them absorb important vitamins in the body. Therefore, do not miss these valuable nutrients in children's diets. Moms are advised to add one or two 2 tablespoons of oil when preparing porridge for their children.
5. One porridge pot used for a whole day
For many reasons, moms usually cook a pot of porridge and feed children with it for all day. But they do not notice that nutrients will be significant damaged and lost during storage. So, in case of too busy with work, moms can cook a small pot of porridge, take part of porridge and cook with vegetables and meat to cook for each feeding so that children will not get bored.